Posting  ini merupakan bagian dari tulisan saat mengikuti Indonesia Future HR Leader 2014 yang diselenggarakan Majalah SWA. Alhamdulillah bisa jadi finalis. Topiknya : TEROBOSAN ORGANISASI DENGAN MANAJEMEN PERUBAHAN TERINTEGRASI DAN PERAN HR DALAM PROSESNYA (Organizational  Breakthrough with Integrated Change Management and The Roles of HR in the processes). Tulisan akan diposting secara bertahap. semoga bermanfaat.
2. Business Process

Business process setiap bidang industri memiliki alur yang berbeda – beda. Namun apabila disederhanakan business process dalam organisasi dapat digambarkan sebagai berikut :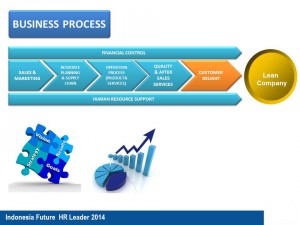 Proses mulai dari Sales & Marketing, Resource Planning & Supply Chain, Operation process, Quality & After Sales Services ditujukan untuk pencapaian Customer Delight. Semua proses tersebut didukung dengan Financial Control dan Human Resource Support di setiap prosesnya. Untuk mencapai sasaran Lean Company, perlu dilakukan business process mapping dan menemukan metode atau tools yang sesuai (seperti CRM, ERP, Lean Operation, dll. ) agar efisiensi dan efektifitas di keseluruhan proses bisa tercapai.