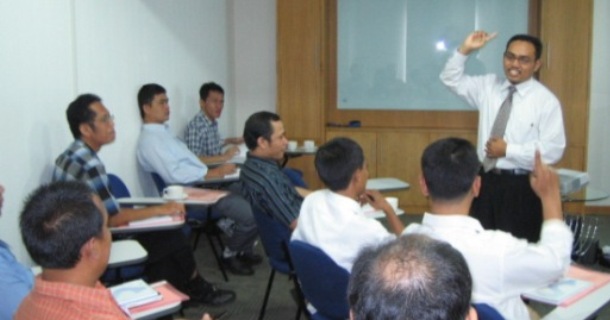 Deskripsi
Knowledge management mengembangkan sistem dan proses untuk memperoleh dan berbagi aset intelektual. Ini meningkatkan informasi yang berguna, dapat ditindaklanjuti dan bermakna dan mencari untuk meningkatkan proses pembelajaran individu dan tim. Selain itu,
dapat memaksimalkan nilai dasar intelektual organisasi pada seluruh fungsi yang beragam dan lokasi yang berbeda. Knowledge management menyatakan bahwa bisnis yang sukses adalah
bukan koleksi dari produk tetapi basis pengetahuan yang khas dan unik. Modal intelektual ini merupakan kunci yang akan memberikan perusahaan suatu keunggulan kompetitif dengan pelanggan yang menjadi sasaran. Knowledge management berusaha untuk mengakumulasi modal intelektual yang akan menciptakan kompetensi inti yang unik dan mengakibatkan hasil yang lebih unggul.
Metodologi
Knowledge management memerlukan para manajer untuk:
• Membuat katalog dan mengevaluasi organisasi pengetahuan dasar saat ini ;
• Menentukan kompetensi akan menjadi kunci keberhasilan masa depan dan dasar pengetahuan apa yang diperlukan untuk membangun posisi kepemimpinan yang berkelanjutan ke depannya;
• Melakukan investasi dalam sistem dan proses untuk mempercepat akumulasi pengetahuan;
• Menilai dampak sistem tersebut pada kepemimpinan, budaya, dan praktek recruitment;
• menyusun sistem pengetahuan baru dan mengubahnya menjadi alat dan informasi yang akan digunakan untuk meningkatkan inovasi produk dan profitabilitas secara keseluruhan.
Penggunaan Umum

Perusahaan menggunakan Knowledge management untuk:
• Meningkatkan biaya dan kualitas yang ada pada produk atau jasa mereka;
• Memperkuat dan memperluas kompetensi terkini melalui manajemen aset intelektual;
• Memperbaiki dan mempercepat penyebaran pengetahuan kepada seluruh organisasi;
• Menerapkan pengetahuan baru untuk memperbaiki perilaku;
• Mendorong lebih cepat dan bahkan lebih menguntungkan inovasi produk baru.
Referensi

Collison, Chris, and Geoff Parcell. Learning to Fly: Practical Lessons from One of the World's Leading Knowledge Companies. Capstone Publishing, 2001.
Cortada, James W., and John A. Woods. The Knowledge Management Yearbook, 2000-2001. Butterworth-Heinemann, 2000.
Dalkir, Kamiz. Knowledge Management in Theory and Practice. Butterworth-Heinemann, 2005.
Davenport, Thomas H., and Laurence Prusak. Working Knowledge: How Organizations Manage What They Know. Harvard Business School Press, 1998.
Desouza, Kevin C., and Yukika Awazu. Engaged Knowledge Management: Engagement with New Realities. Palgrave Macmillan, 2005.
Firestone, Joseph M., and Mark W. McElroy. Key Issues in the New Knowledge Management. Butterworth-Heinemann, 2003.
Groff, Todd R., and Thomas P. Jones. Introduction to Knowledge Management: KM in Business. Butterworth-Heinemann, 2003.
Malone, Thomas W., Kevin Crowston, and George A. Herman, eds. Organizing Business Knowledge: The MIT Process Handbook. MIT Press, 2003.
Quinn, James Brian. Intelligent Enterprise. Free Press, 1992.
Renzl, Birgit, Kurt Matzler, and Hans Hinterhuber, eds. The Future of Knowledge Management. Palgrave Macmillan, 2006.
Senge, Peter M. The Fifth Discipline: The Art and Practice of the Learning Organization, revised. Currency, 2006.
Stewart, Thomas A. Intellectual Capital: The New Wealth of Organizations. Currency/Doubleday, 1997.
Wenger, Etienne, Richard McDermott, and William M. Snyder. Cultivating Communities of Practice. Harvard Business School Press, 2002.
Sumber : Darrel K Rigby. Management Tools 2011, an Executive guide. 2011