Posting  ini merupakan bagian dari tulisan saat mengikuti Indonesia Future HR Leader 2014 yang diselenggarakan Majalah SWA. Alhamdulillah bisa jadi finalis. Topiknya : TEROBOSAN ORGANISASI DENGAN MANAJEMEN PERUBAHAN TERINTEGRASI DAN PERAN HR DALAM PROSESNYA (Organizational  Breakthrough with Integrated Change Management and The Roles of HR in the processes). Tulisan akan diposting secara bertahap. semoga bermanfaat.
2. Business Process

Business process setiap bidang industri memiliki alur yang berbeda – beda. Namun apabila disederhanakan business process dalam organisasi dapat digambarkan sebagai berikut :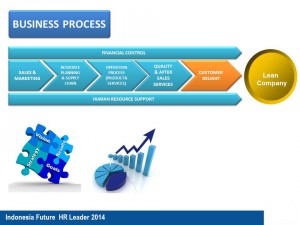 Proses mulai dari Sales & Marketing, Resource Planning & Supply Chain, Operation process, Quality & After Sales Services ditujukan untuk pencapaian Customer Delight. Semua proses tersebut didukung dengan Financial Control dan Human Resource Support di setiap prosesnya. Untuk mencapai sasaran Lean Company, perlu dilakukan business process mapping dan menemukan metode atau tools yang sesuai (seperti CRM, ERP, Lean Operation, dll. ) agar efisiensi dan efektifitas di keseluruhan proses bisa tercapai.
3. People Process
Framework dasar People Process diawali dengan penjabaran strategi bisnis (Business Strategy) yang dituangkan dalam people strategy. People strategy mencakup perencanaan perusahaan, baik jangka pendek dan jangka panjang, yang dapat meningkatkan peran dan kontribusi karyawan dalam menunjang strategi bisnis perusahaan.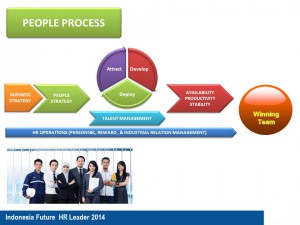 Perusahaan menetapkan rencana kuantitas dan kualitas karyawan dengan kinerja yang sangat produktif  sehingga dapat secara optimal merealisasikan suatu perusahaan yang unggul demi mencapai visi perusahaan.
Keberhasilan pencapaian kinerja yang optimal selanjutnya ditentukan oleh kualitas aktivitas talent management yang meliputi :
Attract : Proses mencari dan menyeleksi talented people (rekrutmen) baik dari internal maupun eksternal sesuai sesuai dengan jumlah dan waktu yang dibutuhkan dalam rangka pemenuhan Man Power Plan dan sesuai dengan nilai-nilai perusahaan.
Develop : Proses yang mencakup kegiatan merencanakan dan melaksanakan pengembangan karyawan agar siap dalam menunjang pencapaian kinerja perusahaan sesuai dengan uraian tugas saat ini maupun kebutuhan perkembangan bisnis ke depan.
Deploy : Proses penempatan orang pada posisi yang sesuai dengan kemampuannya serta dibimbing untuk dapat berkontribusi secara optimal dalam mencapai target yang telah ditetapkan.
Semua hal tersebut akan berjalan dengan efektif apabila didukung dengan  oleh HR Operations yang handal meliputi :
Personnel Management
Reward Management
Industrial Relation Management
Semua aktivitas people proses tersebut diharapkan akan menunjang pemenuhan 3 aspek yaitu Availability (Ketersediaan), Productivity (Produktivitas), dan Stability (Stabilitas) sehingga sasaran utama berupa Winning Team dalam organisasi bisa tercapai.
Bersambung…