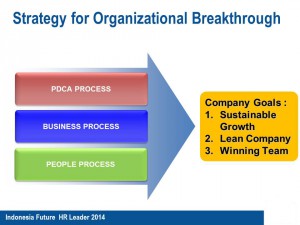 Posting  ini merupakan bagian dari tulisan saat mengikuti Indonesia Future HR Leader 2014 yang diselenggarakan Majalah SWA. Alhamdulillah bisa jadi finalis. Topiknya : TEROBOSAN ORGANISASI DENGAN MANAJEMEN PERUBAHAN TERINTEGRASI DAN PERAN HR DALAM PROSESNYA (Organizational  Breakthrough with Integrated Change Management and The Roles of HR in the processes). Tulisan akan diposting secara bertahap. semoga bermanfaat.
C. Strategi dan terobosan yang harus dilakukan perusahaan untuk mencapai Organizational Breakthrough
Ada 3 pilar proses yang harus dilakukan perusahaan gara bisa mencapai terobosan/lompatan yang signifikan untuk mencapai sasaran Sustainable Growth, Lean Company, serta memiliki Winning Team yang kuat dan dinamis. Pilar-pilar tersebut harus dijalankan secara bersamaan sesuai dengan tahapannya dengan proses manajemen perubahan yang terintegrasi (Integrated Change Management) seperti yang digambarkan berikut ini  :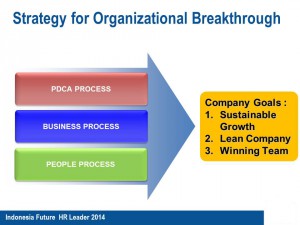 PDCA Process
PDCA Process merupakan metode efektif yang digunakan manajemen perusahaan untuk memastikan setiap proses pengelolaan organisasi berjalan dengan rapi dan dapat mempertahankan serta meningkatkan kinerjanya dengan konsisten.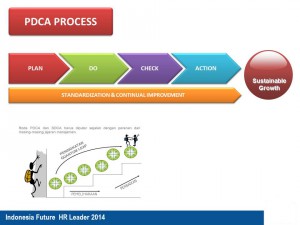 Fase PLAN merupakan tahap menentukan target dan rencana yang akan dilakukan, selanjutnya dilaksanakan pada fase DO dengan menggunakan metodologi yang sesuai. Selanjutnya mekanisme review (CHECK) harus dilakukan secara periodik untuk memastikan proses berjalan sesuai dengan rencana. Untuk menjaga kelangsungan aktivitas perbiakan di perusahaan, maka perlu ada aktivitas improvement berikutnya (ACTION) dengan memperhatikan hasil yang sudah dicapai sebelumnya.
PDCA yang dijalankan dengan konsisten akan membentuk manajemen standarisasi (Standardization Management) dan manajemen improvement (Continual Improvement). Standarisasi merupakan titik awal dalam melaksanakan continual improvement. Pembentukan proses yang terstandarkan merupakan syarat utama untuk menciptakan  kinerja yang konsisten.
Bersambung…