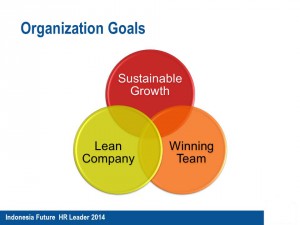 Posting  ini merupakan bagian dari tulisan saat mengikuti Indonesia Future HR Leader 2014 yang diselenggarakan Majalah SWA. Alhamdulillah bisa jadi finalis. Topiknya : TEROBOSAN ORGANISASI DENGAN MANAJEMEN PERUBAHAN TERINTEGRASI DAN PERAN HR DALAM PROSESNYA (Organizational  Breakthrough with Integrated Change Management and The Roles of HR in the processes). Tulisan akan diposting secara bertahap. semoga bermanfaat.
B. Sasaran yang ingin dicapai perusahaan
Kalau kita melihat dan memahami bagaimana siklus sebuah organisasi terjadi, seperti yang digambarkan pada diagram berikut :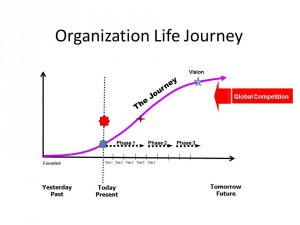 maka sasaran  perusahaan umumnya mencakup tiga sasaran besar sebagai berikut :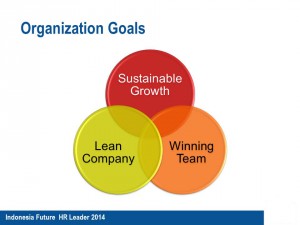 1. Sustainable Growth
Setiap perusahaan pasti ingin terus bertumbuh dan berkembang untuk mencapai visi  perusahaan. Perusahaan akan selalu berusaha untuk menjadi yang terbaik dan terdepan dalam bidang industri yang dipilih. Sebisa mungkin menjadi Good to Great Company seperti yang digambarkan oleh Jim Collins dan bertahan hingga beberapa generasi.
2. Lean Company
Dalam mencapai sasaran Sustainable Growth, perusahaan juga harus berusaha agar organisasi tidak menjadi gemuk dan pada akhirnya menjadi tidak efisien. Banyak perusahaan yang menjadi tumbuh, membesar dan menjadi birokratis yang pada akhirnya menghambat pertumbuhan itu sendiri. Oleh karena itu perusahaan juga memiliki sasaran untuk menjadi Lean Company (perusahaan yang ramping dan efisien), baik lean secara sistem, proses, maupun sumber dayanya.
3. Winning Team
Untuk bisa bertahan dan terus tumbuh di tengah situasi yang serba paradox dan kompetisi global yang tidak menentu, perusahaan perlu memiliki tim yang kuat, resilien dan dinamis. Tim ini memiliki karakter pemenang yang selalu siap untuk beradaptasi dengan setiap tantangan yang muncul dalam bisnis. Oleh karena itu, memiliki tim pemenang (Winning Team) merupakan sasaran penting organisasi.
Bersambung…